Create Digital Business Card for Free
How to create digital card for free ? eSoftCode brings a feature to create a digital business card for free.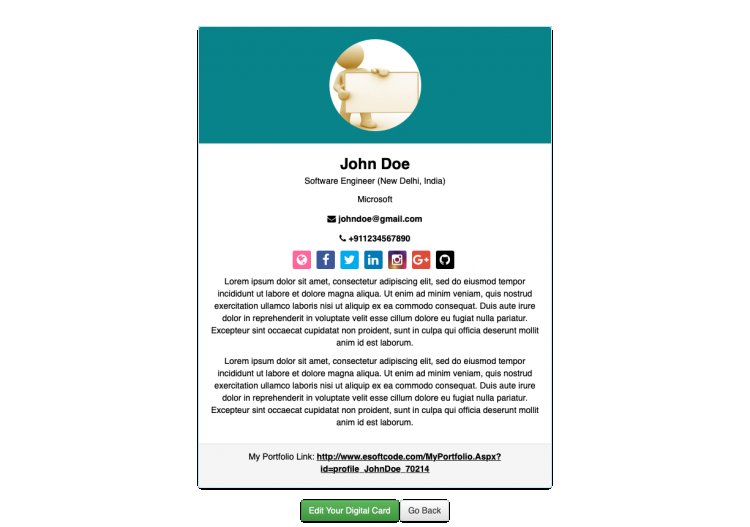 Now you can create your Professional Business Card digitally on eSoftCode. You can show your digital card to anyone with your personalized individual link. You can also share QR Code of your digital card. Your client can scan your QR Code and redirect to your Professional Business Card link. It's cool, isn't it.
It's a free digital card maker from eSoftCode. You can connect all your social profile links (facebook, twitter, instagram, linkedin, google), GitHub links and your personal website link to your digital business card. You can write about your profile in interactive HTML editor, put anything which suites your profile and show to the world.
Steps to Create Professional Business Card Digitally
Login / SignUp with your email id and password
Go to My Profile page from top right corner dropdown menu
Update your all details in My Profile page
Now you can get your Digital Card QRCode here. Download this QRCode and share with your client
You can directly go to the Digital Card link and check the card details. You will get your unique link like this: Your Public Digital Card Link: http://www.esoftcode.com/DigitalCard.Aspx?Id=70214&UName=JohnDoe
Here is your Professional Digital Card look like:
You can also manage your work portfolio on eSoftCode and show in your Professional Digital Card. Read this blog for more details steps to create your portfolio: How to Create a Professional Portfolio ?
About eSoftCode:
eSoftCode is free coding community where you can ask and post anything. Now you can powered your knowledge with various programming techniques and logics. Ask anything about Programming & Logics, you can get better answer in a minute.
We help you to grow your knowledge in a successful way.
This community is developed for sharing knowledge to all individuals around the world. You can get full source code, logics and techniques from our qualified members. You can also access our Blogs & creative ideas to keep your knowledge up to date.
We are here to share knowledge with you.